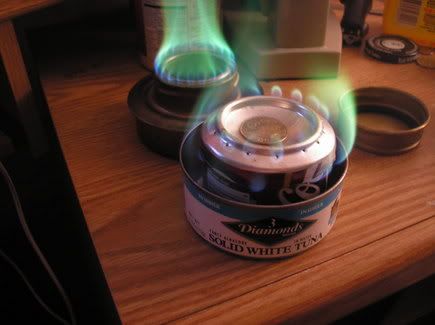 Homemade hiking stoves that use alcohol as fuel have become quite popular in the past 5 or so years here in the U.S. Basically, they are a cheap copy (made from a soda can)of the age old brass Trangia alcohol stove made by the Svea folks in Sweden.
Adding a wee bit of boric acid to the fuel, will yield a green flame.
Of the three alcohol fuels available- methanol, ethanol, and isopropanol This green flame stuff only works with the methanol. Methanol burns with a clean, almost colorless flame. Ethanol has a more incandescent candle-like flame and isopropyl burns with a sooty yellow flame.
Linky ad nauseam....
http://www.ultralight-hiking.com/stoves-trangia.html
http://wings.interfree.it/
http://art.simon.tripod.com/Stoves/
http://zenstoves.net/Stoves.htm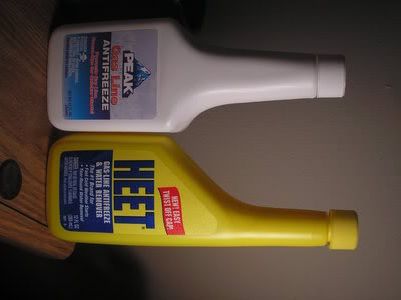 Drygas. In colder climes, water condenses on the cold gasoline of your car's gas tank. Being denser than the gasoline, it sinks to the bottom of the tank where it can gets slurped up by the fuel pump and stalls or hesitates your car engine. Alcohol drygas, being miscible in both gasoline and water helps make a more homogenous suspension of water in gasoline to help prevent stalling. Its actually more of a cloudy/murky suspension, but it keeps the water off the bottom of the fuel tank.
Be sure to use the methanol drygas (methyl alcohol), the isopropyl ones burn like crap in a stove and doesn't pick up the color. Don't drink it, as methanol gets oxidized into formaldehyde in the human body. Your eye's will be embalmed first, then your liver and peripheral nerves.
There is no ethanol drygas since it would be too pricy. All that fermenting and stuff...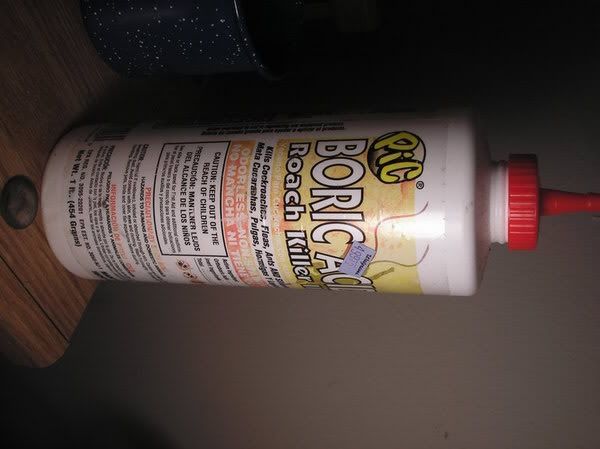 The secret ingredient. Boric acid. You sprinkle this stuff around and the bugs gobble it up as they groom themselves. Pretty non-toxic to people, but bad news to roaches apparently.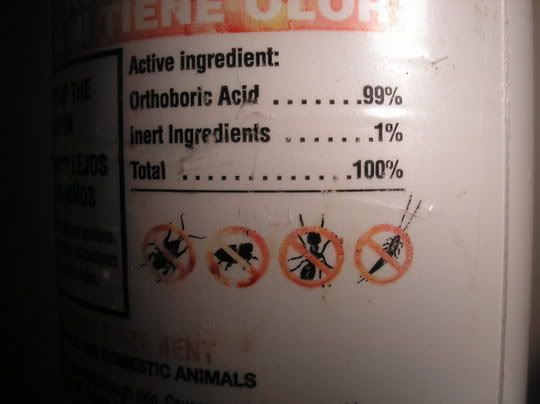 Label close up. Boric acid is NOT to be CONFUSED with BORAX (sodium tetraborate)a laundry additive which comes is a big, green 5lb box or for sale next to the MSG in chinatown!
Boric acid is a weak antiseptic usually used in eyedrops, but pharmacies hardly carry it anymore. Nowadays I can only find it in Walgreens or Homedepot in the bug killing section.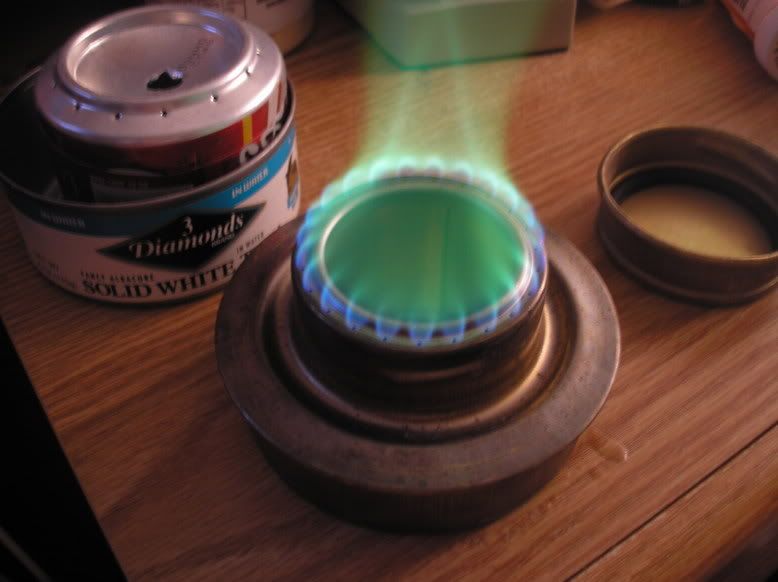 Just add a pinch or two of boric acid to each pint of methanol, mix, and it will burn a delightful green color. Any more than a wee bit simply won't dissolve and will be sediment in your fuel. Its an ancient chemistry trick, and of all the funky flame color demonstrations, its the only one you can produce in liquid form. Others require introducing solids to a colorless flame or a pyrotechnic type device/reaction.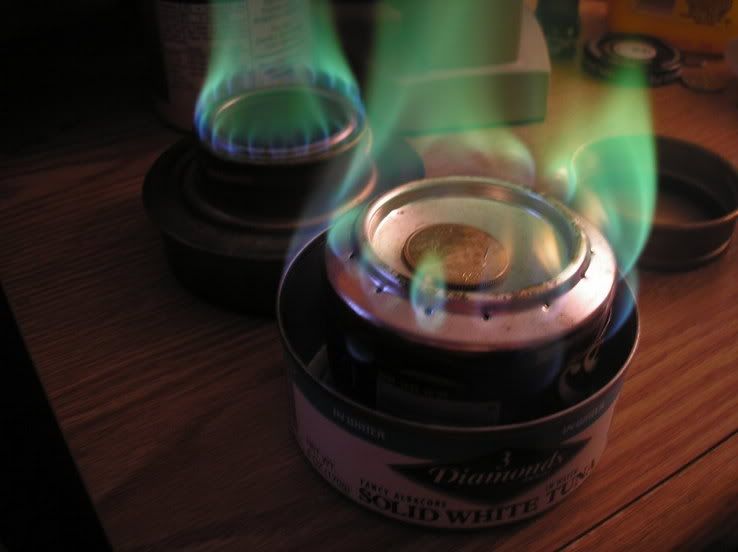 My half-assed stove is leaking at the seams. Oh well.